Our Mission:
It is the Mission of Acreage Fences, Inc – a Midwest family oriented team of fence professionals – to recognize and provide creative, commonsense, economical, eye-appealing solutions to meet our client's needs.  We use U.S. manufactured products and services we would provide to our own families – all in an honest and timely manner.
About Us:
Acreage Fences is both a retail and wholesale fence and railing contractor that focuses on residential, commercial, and farm projects.  While servicing Eastern Nebraska and Western Iowa since 1990, Acreage Fences has built a strong reputation as a premier, customer-centric vinyl and aluminum fencing professional. Acreage Fences is an Authorized Independent Dealer of Country Estate fence, a nation-wide leader of manufactured superior strength PVC fence. This long-standing dealership allows Acreage Fences to offer all of it's customers, wholesale and retail, value-added solutions including short lead times and custom-configured fences, railings, decks, and gates, all from its facility located in Omaha Nebraska.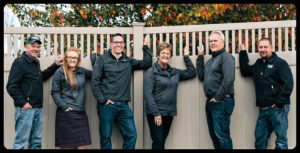 Our Team:
Craig Chipperfield
President / CEO
Craig's drive and enthusiasm to help others be successful ensures that our customers have the best experience possible!  
Tom Schweers
Founder / Director of Sales
Tom Schweers founded Acreage Fences in 1995.  Over the years he has made many friends through selling reputable products and understanding that each project is unique and should be treated as such.  This philosophy has led Acreage Fences to one satisfied customer after another!
Carmen Balz
Customer Service Representative
Carmen's love for helping others allows her to be a bright spot in everyone's day!
Larisa Hertz
Project Coordinator
Larisa is always cheerful and her fun personality ensures that our customers have a great day!
Bill O'Neill
Sr. Planning & Procurement
Bill's drive to 'make it happen' ensures that products are purchased and delivered to our customers right on time!
Mark Backuus
Shop Foreman
Aaron Gansebom
Fabrication
Mike Smith
Fabrication
John Neely
Fabrication